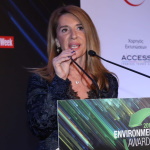 Eva Skanavi is a Special Educator and Philologist. She has worked in various fields of Special Education in Greece, while she is an active volunteer to ADHD Hellas Organisation. Also she is the founder and administrator of https://gamifiedspecialteaching.wordpress.com and co-founder of http://www.meeidikhmatia.gr/.
Her teaching experience and practices focus on Customised Learning Techniques, Game - Based Learning, Educational Assessment and Implementation of IEP students' in accordance to respective special syndromes, as Autistic Spectrum Disorder, ADHD, Mental Retardation, Severe Learning Disabiities, Specific Learning Difficulties, Cerebral Palsy, Specific Genetic Disorders etc.
During the past decade Eva attended various seminars in multiple thematology, as she believes that lifelong education is the key for each educator. Currently she is interested not only in Adult Training, but also to incorporate Gamification into learning.