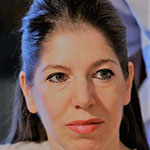 Evangelia Vassilakou has a BA degree in Philosophy from Deree College, The American College of Greece and an MA degree in Applied Linguistics from Hellenic American University with a high distinction. She has also been nominated as a PhD candidate in Applied Linguistics (HAU).
Evangelia is a committed and goal-driven educator with 20 years' experience in the EFL field and documented success in providing mentally stimulating activities and materials that make excellent student profiles ensuring the development of academic, business and life skills. She has attended multiple educational seminars in ELT forums and half-day international workshops organized by the Council of Europe with a view to validating sets of descriptors of language proficiency according to the Common European Framework of Reference (CEFR). Actively participates in Conferences taking place at Hellenic American Union aiming at creating an effective and caring learning environment for all students and the Annual International Conventions organized by TESOL Greece.
Currently she is working as an English instructor with an expertise in teaching exam classes and a Business practitioner in the field of English for Specific Purposes (ESP). Additionally, she is working for the Academic Department of Deportivo Publishing Company as an educational consultant and teacher trainer.
She believes that lifelong and quality education need to be the overarching principles for each educator to awaken and enlighten students of all ages, nationalities and competencies.
Contact: Αυτή η διεύθυνση ηλεκτρονικού ταχυδρομείου προστατεύεται από τους αυτοματισμούς αποστολέων ανεπιθύμητων μηνυμάτων. Χρειάζεται να ενεργοποιήσετε τη JavaScript για να μπορέσετε να τη δείτε.